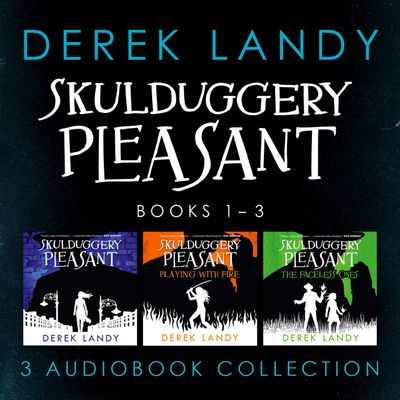 Skulduggery Pleasant - Skulduggery Pleasant: Audio Collection Books 1-3: The Faceless Ones Trilogy: Skulduggery Pleasant, Playing with Fire, The Faceless Ones
(Skulduggery Pleasant)

: Unabridged edition

By Derek Landy, Read by Rupert Degas
Books 1, 2 and 3 in the SKULDUGGERY PLEASANT series – known collectively as THE FACELESS ONES TRILOGY, Derek Landy's fantastically imaginative series about our favourite dead detective.
SKULDUGGERY PLEASANT
Stephanie's uncle, Gordon, is a writer of horror fiction. But when he dies and leaves her his estate, Stephanie learns that while he may have written horror, it certainly wasn't fiction.
PLAYING WITH FIRE
With Serpine dead, the world is safe once more. At least, that's what Valkyrie and Skulduggery think, until the notorious Baron Vengeous makes a bloody escape from prison, and dead bodies and vampires start showing up all over Ireland.
THE FACELESS ONES
Skulduggery Pleasant and his wonderfully cheeky and inquisitive side kick, Valkyrie, take us through another journey, which promises to be filled with adventure, dark, mysterious meetings, and classically funny moments.